Discover an unmatched collection of high quality products like Metal Spinning Products, Venturis, Reflectors, Antenna Dishes, Domes, Dust Collection, etc.....

About Us

Having vast years of experience in the industry, we, Kohinoor Enterprises, have established ourselves as a leading business entity. With a vision to offer highly durable engineering components at industry leading prices, the company started its business operation in the year 1999. We are a precision metal forming company, specialize in metal spinning and deep drawing. We enjoy excellent reputation by providing quality parts of product within stipulated time at competitive prices. We are a renowned manufacturer and exporter offering a wide range of products like Cones, Metal Spinning Products, Venturis, Reflectors, Antenna Dishes, Domes, Dust Collection, etc. Due to our excellence in providing qualitative range, we have acquired the membership of Small Scale Industries (SSI) and Export Promotion Council Of India (EPCI).

We form parts that range from the size of a thimble to a satellite dish. We effectively address both prototype and high volume production requirements. Out manual spinning lathes can swing up to 1000" mm in diameter.

The talent and dedication of our skilled engineers, technicians and operators are key to our success. Their extensive knowledge, creativity and tenacity allow us to devise innovative metal forming solutions. This experience translates into effective tool design and efficient part fabrication. This results in lower cost and quicker response to the customers.

We deliver quality parts of the products due to the diligence for our technicians and effectiveness of our quality control system. Every manufacturing step of each part is controlled via work instructions, part dimensions and drawings. Part conformance is ensured by each operator's documentation at every step of the manufacturing process. Our quality system and attention to detail allows us to provide consistent high quality parts.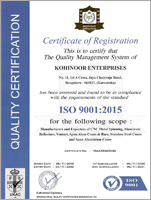 Read More